Welcome to We Care Chiropractic Your Glendale Chiropractor
At We Care Chiropractic we are dedicated to provide the finest Chiropractic care available. We are committed to the care of each patient through a trusting environment because we truly care for our "family of patients". – Dr. Neil T. Dende DC
We extend our invitation for you to join thousands of Arizonans who have not only found relief from back and neck pain ,but also a better path to wellness through natural Chiropractic treatment and drug free healthcare.  Our website provides you with information about our chiropractor, our chiropractic services,  instructions for scheduling an appointment and maps and directions to our office.  We also offer massage therapy. Pain relief is only one call away so schedule an appointment now at 623-825-4444.
We Care Chiropractic offers you affordable, quality and convenient healthcare solutions for all of your pain management needs.  Dr. Dende can assist you in relieving and eliminating back and neck pain as well as numerous other symptoms you might be experiencing. Schedule an appointment at our Glendale chiropractic office today or simply give us a call (623) 825-4444! We also offer Massage Therapy!
Dr. Dende has successfully helped Chiropractic patients find relief from the following issues,
and provides special focus on auto accident injuries!
If you have been involved in an automobile accident injury, you found the right chiropractor! Dr. Dende has successfully treated thousands of automobile accident patients and has a special passion for treating these unique injuries. Many local primary care providers and specialists (including neurosurgeons) refer auto accident cases to Dr. Dende because they trust Dr. Dende and his level of experience. On numerous occasions, Dr. Dende is called upon as an expert witness on behalf of patients as well as insurance companies for accident injuries through independent medical examinations. If you are hurting from an auto accident injury, you just found a quality chiropractor.
CLICK TITLE TO LEARN MORE!
The neck (cervical region) is a unique area of the spine, and I am amazed by its design. It is the most mobile region of the spine and balances the head on two tiny surfaces of the first cervical vertebra. It's amazing to study the anatomy of the cervical spine in relationship to the nervous system. Because of this unique proximity, when neck symptoms develop, they may be accompanied with individual symptoms other than neck pain, including headache, dizziness, vertigo, visual, and auditory disturbance. For this reason, cervical spine examination includes radiographic analysis to identify the root problem accurately. Any patient who has a neck problem in my office will leave on their first visit, knowing precisely what the problem is and how we are going to fix it. I have a special method developed over the years in treating neck problems, and it is among the top 3 disorders I treat. Patients love this treatment, and the typical treatment response described by our patients is: "Amazing!"
CLICK TITLE TO LEARN MORE!
The mid-back is referred to as the "thoracic spine." This region is unique to the other areas of the spine because It is less mobile, and the rib cage attaches to it. This creates extra joints, and more moving parts can cause more potential problems. As with every area, identifying the problem is the key. Many times, patients present with back pain only to find out that it is referred pain from the neck. If you have mid-back pain, it's time to get it diagnosed and treated.
CLICK TITLE TO LEARN MORE!
I love treating lower back pain patients because the results are so gratifying. In my 35 years of practice, I have gained a lot of wisdom in treating Low back pain. There are two basic categories of low back pain. "simple cases" and "complicated cases." To properly treat "back pain" the source of the pain must be identified, and there can be many sources causing identical symptoms. When a patient comes in my office with lower back problems, I will first identify the cause then treat the problem. 95% of cases in my office are successfully treated with chiropractic care alone. Over the years, I have developed my special techniques to address specific lower back ailments. Every treatment plan is customized to the patient's condition and typically involves thoroughly educating the patient regarding their unique problem then treatment with a combination of precise, gentle chiropractic manipulation, physiotherapy modalities, and a customized at-home exercise plan. It is not unusual for a patient to enter my office as a "last resort" having been to several doctors who have failed to identify the correct diagnosis and treatment. We have helped so many people in this way. In a rare situation, when I encounter an extreme case, my promise is that I will be tenacious to find an outside source to bring you relief.
CLICK TITLE TO LEARN MORE!
"Herniated discs" are among the most common and successfully treated conditions in my office. Most patients do not realize there are many types of disc problems, including disc bulge, disc herniation, disc protrusion, disc extrusion, sequestered disc. There are many causes, including trauma and genetic predisposition. Is important to recognize the reason for a patient's unique disc problem. It is also essential to understand what type of disc problem they have. X-rays and physical examination may typically identify disc lesions with relative accuracy, although an MRI is the most common useful tool for proper identification. I have been utilizing specific manual decompression techniques to treat herniated discs successfully.
CLICK TITLE TO LEARN MORE!
Treating headaches is a daily event in my office, and we do it well. Headaches come in many forms, from muscle tension headaches to migraine headaches. Many unique factors may trigger patients who are susceptible to headaches. From stress to repetitive motion and from acquired causes to a congenital predisposition. Whatever the case, the first goal is to diagnose accurately, which leads to quality care. If you can sit in my waiting room and ask any of my headache patients their chiropractic story – you will be convinced this is the right place to be If you are dealing with headaches.
CLICK TITLE TO LEARN MORE!
Carpal tunnel syndrome is compression of the median nerve in the wrist. The condition typically begins with numbness and tingling in the entire hand. It is common for the condition to present while sleeping at night. The condition can progress, causing hand weakness among other symptoms. I'm amazed at how many people have carpal tunnel syndrome and do not know that chiropractic care can help this. Treatment involves gentle manipulation to the wrist, along with various therapies and exercise designed to alleviate nerve compression. Do these symptoms sound familiar to you? I have successfully treated hundreds of these cases over the years.
CLICK TITLE TO LEARN MORE!
I have successfully treated many shoulder conditions. There is a multitude of problems that can occur in the shoulder, and accurate diagnosis is the key to proper treatment. Typical shoulder cases involve direct therapy to the shoulder, including specific manipulative procedures. Also, at-home exercise is a must, and all my shoulder patients have a particular program designed. Shoulder pain is a common disorder successfully treated in my office.
CLICK TITLE TO LEARN MORE!
The majority of foot problems stem from a mechanical foot problem. The foot has a unique design with 26 bones, all moving harmoniously with each step. As we age, the arch of the foot tends to flatten, leading to all kinds of mechanical foot conditions. If you have a foot problem, especially plantar fasciitis, make an appointment at my office and we will set up a treatment program to get you walking well again!
CLICK TITLE TO LEARN MORE!
Other ailments successfully treated include hip pain, elbow pain, and hand pain.
CLICK TITLE TO LEARN MORE!
CHIROPRACTIC ADJUSTMENT
Chiropractic Adjustment is one of the methods Dr. Dende uses to help relieve discomfort and pain for many Glendale residents.
AUTO ACCIDENT CHIROPRACTOR
Auto accidents result in neck pain, back pain, and whiplash. Allow us to help alleviate pain and help restore range of motion.
SPORTS CHIROPRACTOR
You give your all on the field and sports injury happens. We can will help you heal faster.
CHIROPRACTIC MASSAGE
Chiropractic massage is focused around reducing stress, alleviating pain, and improving circulation.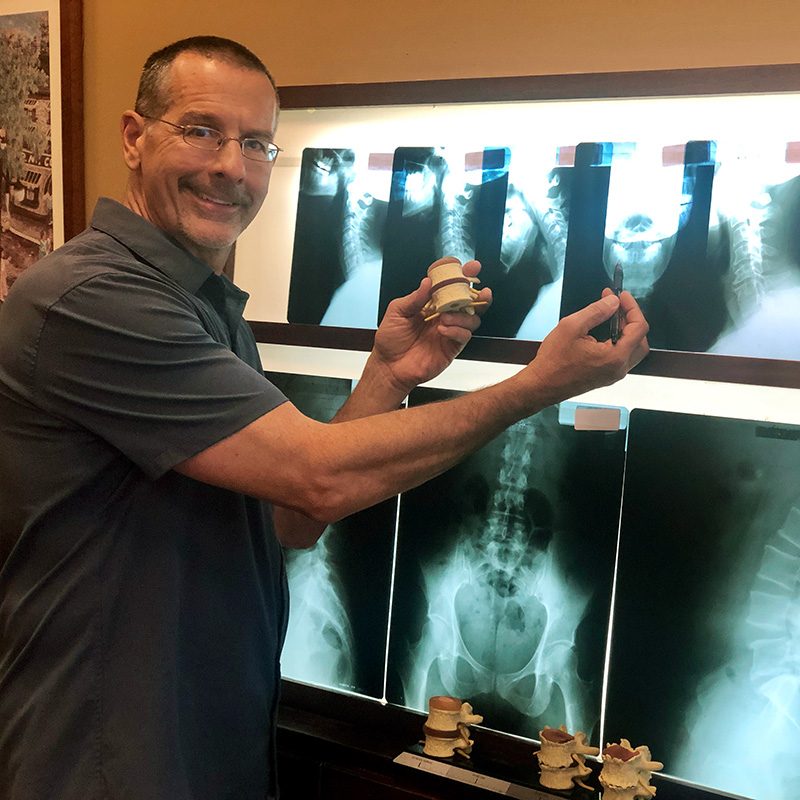 Dr. Neil Dende has been freeing chiropractic patients from pain in Glendale, AZ for over 35 years. Combining expertise and skill that spans the entire chiropractic wellness spectrum, Dr. Dende, a Chiropractor with experience, is committed to promoting optimal health and well being of patients.
Dr. Neil Dende is a licensed Chiropractor serving the Glendale AZ community. We strive to provide complete care for our patients. Learn more about the chiropractic services we provide. If you are new to our office, please feel free to learn and discover about our chiropractic wellness center and fill out our new patient form.
We value our patients' experience at We Care Chiropractic. If you are currently a patient, please feel free to complete the following Client Experience Questionnaire. We will do our absolute best to accommodate your time and busy schedule. Call for a free consultation today!
24/7 Emergency Auto Injury Appointments
---
Monday: 8:00AM – 7:00PM
---
Tuesday: Appointments Only
---
Wednesday: 8:00AM – 7:00PM
---
Thursday: Appointments Only
---
Friday: 8:00AM – 7:00PM
---
Saturday: Appointments Only
---
Sunday: Appointments Only
"We Care" For Both Children and Adults
Routine care can provide pain management and relief for the following: Auto Accident Injuries, Sports Injuries, Back Pain, Neck Pain, Migraine and Tension Headaches, Shoulder and Elbow Pain, Knee, Foot and Ankle Pain, Leg Pain (Sciatica) and Chronic Injuries. Chiropractic adjustments may also help: Improve Nervous System Function, Relieve Prenatal Discomfort, Improve Quality of Life and Increase Vitality, Improve Overall Health & Provide Preventative Care and Wellness for both Adults and Children.
CAROL C.
"The first time I visited Dr. Dende's office was for treatment of an injury that caused me great pain. I was afraid I would be hurt as I have fibromyalgia very bad and had never been to a Chiropractor before with whom I didn't cringe from the pain of treatment. What a pleasant surprise, he evaluated my needs, made some adjustments, no cracking noises or pain. It took a few visits to get the full results, but I was 100% within a few days. That visit was 25 yrs. ago and I am still amazed that whenever I feel pains shooting down my legs, or my back spasming, I need only to visit Dr. Dende's office a few times and all is well again. A monthly maintenance adjustment is all I need most of the time. This Dr. is a compassionate, kind man and I'm so thankful I found out about him many years ago. He has treated my entire family for one thing or another through the years and always with kindness and respect."
LINDA K.
"I am so grateful for the excellent care I received from Dr. Dende. I sought his care because of severe neck pain and constant fatigue. After taking a complete history he diagnosed me with "physician burnout. He told me that the neck pain and fatigue were part of a much bigger picture and that we would have to treat the underlying cause and not just the symptoms. I knew immediately that he was right. As a doctor, I had found myself listening to my patients in the past year, but caring less. I felt flat, was tired and in pain. Dr. Dende formulated a comprehensive treatment plan for me that included the biological, psychological, social and spiritual aspects of my life. I am amazed that in just three months of following his treatment recommendations my health has been restored. I feel vital and strong. I know I again have something valuable to offer my patients. Dr. Dende is an incredible physician. I must have done something right in life to have found him."
BARB R.
"I only had one regret when I moved to Arizona,and that was leaving one of the best Chiropractor`s in Chicago land.I was under his care for so long I felt no one could ever replace him,he was my lifesaver so many times . He gave me a few recommendations and one of them lead me to Dr.Dente. Now I have more to be appreciative for because Dr. Dente has taken over and has done a remarkable job understanding my back pain.I actually look forward to my visits because he takes the time to explain how the body works as a whole and every time I get pain in certain areas he manages to pin point my pain and I cannot believe the relief he gives me.Dr. Dente is a wonderful Doctor,with a good sense of humor and he works with wonderful people who are beyond helpful.I am so glad to have found him,because he has made a change in my life to cope with back pain."
DOUG T.
"This is Nancy Teets. I had back surgery a couple of years ago and stll had residual pain from the surgery. Pysical therapy did not help. My neurosurgeon from Barrows recommended Dr. Dende. I am so happy he did. Dr. Dende assesed the situation and is taking great care of my problems, both physcial and mental. I can't recommend Dr. Dende highly enough! He and his office staff are professional, friendly and they really do care. If you are having any problems – I urge you to see Dr Dende. You will be glad you did."
DARRELL T.
"I have known Dr. Dende for many years and can't recommend him highly enough. A few years ago I had a lot of difficulty and tremendous pain when I looked up. He was able to figure out what was happening and correct it pretty quickly. Besides the medical care, I have enjoyed getting to know him and seeing his heart for people beyond only their physical well being. If you are considering Dr. Dende you should schedule an appointment and visit with him. I think you'll be glad that you did."
BARB W.
"I have been a patient of Dr. Dende's for years. Prior to this, I had a lot negative preconceived ideas about chiropractic care as I know many people do. But beginning with my very first visit, which was a consultation, I was comfortable and confident that I had made an excellent decision to move forward with Dr. Dende. He has helped me to manage my headaches and neck pain due to a degenerative disease as no other medical professional was able. I absolutely recommend Dr. Dende and his wonderful staff at We Care Chiropractic to any one who would benefit from chiropractic care."